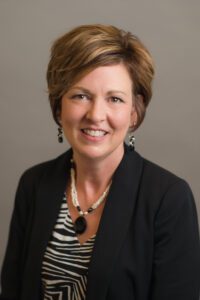 (Rutherford County, Tenn.) – Rutherford County Chamber of Commerce executive Beth Duffield has been appointed to the Tennessee Valley Authority's newly formed Valley Workforce Cabinet.
The Valley Workforce Cabinet (VWC) is an innovative institute designed to provide ongoing insight and guidance to TVA Economic Development about workforce challenges across their seven-state territory. Members will develop and implement new programs to educate and influence economic developers on ways to strengthen their workforce assets in order to be competitive for jobs and investment.
"I am excited that TVA is furthering their concentration in economic development by convening workforce development specific leaders. I'm honored to be included in this inaugural group," said Duffield. "Data shows us that skills gaps continue to grow, particularly in middle-skill and STEM jobs. I look forward to working together to identify potential solutions to this challenge."
As the Rutherford Works Senior Vice President of Education and Workforce Development at the Rutherford County Chamber of Commerce, she leads the strategic vision of growing a world-class workforce for Rutherford County's diverse economy. In this role, she has developed uncommon industry and education partnerships by establishing five industry-led sector councils and solidifying pathways to support the local STEM-centered workforce initiatives in both K-12 and higher education.
"For years, TVA and the Rutherford County Chamber of Commerce have partnered on various initiatives that include site development, capacity building, workforce development, business expansion and new business recruitment in our target industry sectors, said Paul Latture, Rutherford County Chamber of Commerce president. "TVA is a critical partner in the work we do, and we're excited to build upon this partnership with a focus on workforce."
"We received numerous applications from across TVA's territory, making the selection process very competitive," informs TVA Consultant, Alex Hughes Sadler. "The selection was based on an individual's experience working in labor-intensive competitive economic development projects, having a well-rounded understanding of workforce development principles, and being able to effectively communicate workforce assets to new and existing industries," maintains Sadler.
The VWC is composed of up to seven members who are actively engaged in economic and workforce development. The VWC represents a broad range of geographic diversity throughout the TVA service area. Members must attend and actively participate in annual planning sessions and regularly scheduled meetings.