Are you looking for some picturesque opportunities in Rutherford County? From locals to visitors alike, who wouldn't enjoy popping by a local mural and taking a snapshot! With a variety of murals around the Middle Tennessee area, there's a photo background ready to fit your vibe. And, if you're someone who has just moved to the area, what a better opportunity to get to know Rutherford County, Tennessee!
Here at Rutherford Works, we work to increase the prosperity of all Rutherford County, TN residents by developing strong community partnerships, engaging quality companies that champion high-value careers with competitive wages, and strengthening the talent pipeline. To learn more about the hottest mural spots in Rutherford County, keep reading.
Here are some of the best murals to visit in Rutherford County, Tennessee:
The Good Things Mural
Geometric Shape at Dave's Cave Mural
The Very Idea Mural
The Butterfly on the Barn Mural
Tennessee Tristar Rainbow Mural
Little Wings Mural
Rutherford Works
The Good Things Mural
The Good Things Mural, is located on 224 W. Main St. in Murfreesboro, Tennessee. Whether you've just moved to the area, are in town for the weekend, or you're a local native, this mural offers bright colors of pinks and blues, while boasting "Good Things Happen Here." Enjoy an afternoon of shopping at the Exchange Boutique, a local shop with which the mural is actually attached to, before stopping by to take pictures outside! The perfect spot for a photoshoot with your gal pals, or even of your kids.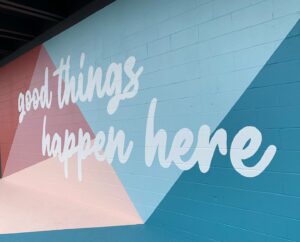 Geometric Shape at Dave's Cave Mural
Located just outside of a local artist's spot, Dave's Cave is home to a variety of eye-catching murals. For those looking for the perfect, unique backdrop for some photos with your friends, this is the place to be. On one side of the building, you'll be able to find Dave's Geometric Shape Mural. Full of fun, bright colors and eclectic lines, shapes and patterns, this mural offers a different take on the classic murals you'll find around town. Stop by after your next Saturday brunch and snap a few pictures.
The Very Idea Mural
Are you a fan of a good ole, classic American Dream vibe? If so, The Very Idea Mural is the perfect spot for you and your friends or family to take a picture! Located on 626 W. College St, this Rutherford County mural is one you won't want to miss. With long stretching artistic views of Tennessee pride, this red, white, and blue mural boasts authentic, innovative USA spirit.
Learn more about living in Rutherford County. 
The Butterfly on the Barn Mural
For those looking for the classic Tennessee butterfly wing mural vibe, The Butterfly on the Barn is the perfect spot for you! Located inside the grounds of the Sinking Creek Farm, on 2473 Battleground Dr, this Instagrammable spot is available for your next photoshoot needs! Be sure to check out the Sinking Creek Farm to ensure you make a reservation and beat out the crowds.
Tennessee Tri-Star Rainbow Mural
Are you looking for that perfect shot that lets your friends and family know where you're traveling for the weekend? This colorful, Tennessee Tri-star mural offers beautiful rainbow views with a special ode to the Tennessee area. Located on the side of Kirk Catron Attorneys at Law, this beautiful mural was designed by a local artist named Iron. Be sure to check out this local favorite spot and post a picture of you and your friends or family.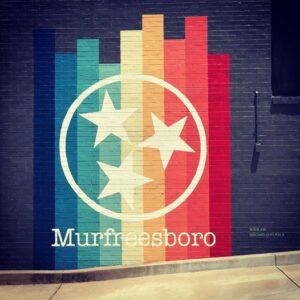 Little Wings Mural
Have you been searching for the perfect photoshoot spot for your fur baby? The Little Wings Mural, located on the door of Veda's Flowers, is the perfect place for you! Boasting the cutest set of small, dainty wings, have your pooch pop a squat while you get the perfect shot. Designed by local artist, Morgan Huffman, you can find this mural on 27 S Public Square, Murfreesboro, Tennessee.
Tri-Star Mural
Local to Smyrna, the Front Street Sign Company opened up shop in 2017 and has quickly become a go-to place for quality custom signage. It comes as no surprise, either, that a sign company would be responsible for bringing a beautiful hometown mural to their 100 Front Street building!
Colorful Houses Mural
Benefitting the efforts of Carpe Artista, a local initiative dedicated to local creatives in the Rutherford County community, this bright and fun piece was created and painted by locals. It was sponsored by Hoover Paint and Benjamin Moore, and can be found on the Hoover Paint Store at 200 Jefferson St. in Smyrna.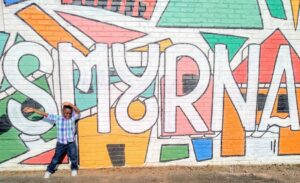 ICEE Water Tower Mural
If you didn't know already that ICEE's corporate headquarters is located in LaVergne, you'll know it after seeing their fun ICEE mural painted on a water tower onsite.  This particular mural was part of a project spearheaded by a LaVergne Arts and Beautification Commission that seeks to increase the city's visibility alongside larger communities like Smyrna and Murfreesboro.
Rutherford Works
Rutherford Works, the umbrella for the collaborative work of the Rutherford County Chamber of Commerce offices of Economic Development (ECD) and Workforce Development (WFD), oversees programs and services that help businesses start, grow, and choose to locate in Rutherford County.
Guided by the mission of Destination Rutherford, Rutherford Works helps ensure a strong and diverse economy helping to increase our County's commercial tax base through business attraction and retention; and helping to prepare our workforce for the 21st century economy.
To learn more about how to get connected with Rutherford Works, contact our team today.